Product
VS-555 Triple Channel 5.8G Camera Drone Receiver / Video Signal Receiver / FPV / Wireless Camera Hunter / 5.8G Video Transmitter
Product ID: VS-555 / 200113
New Product
Synchrous Display 5.8G Camera Drones
for FPV Live streaming
5.8GHz NTSC/PAL/SECAM Video Signal Receiver x 3
This device receives and display video signal of three 5.8 GHz bands wireless cameras. Its effective distance is up to 300 feet (depending on output power of source transmitter).
VS-555 Triple 5.8G Video Signal Receiver is easy to use, it does not require complicated installation or professional knowledge.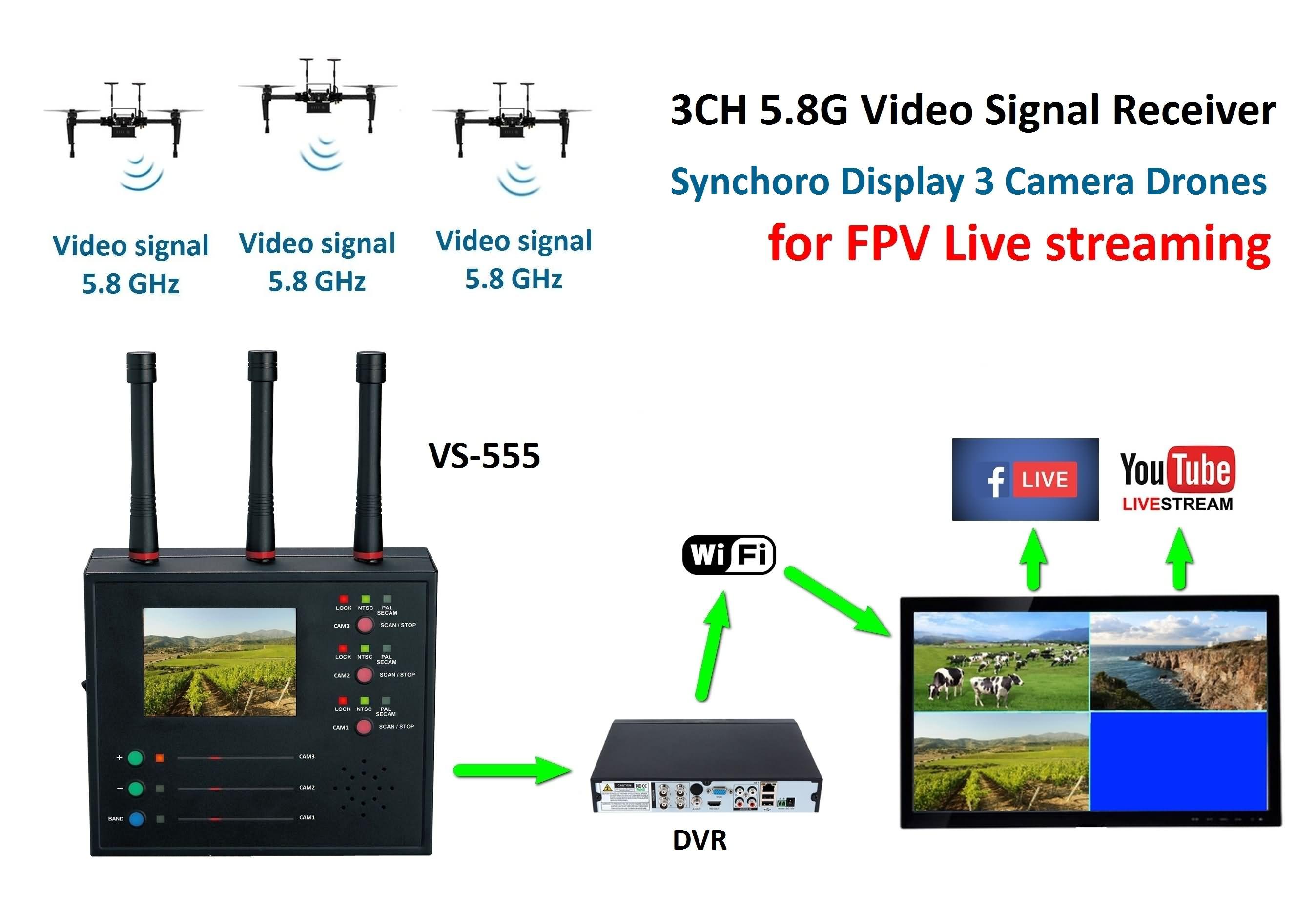 Features:
SCAN ALL LEGAL CHANNELS OF 5.8G VIDEO SIGNAL CAMERA
This device scans all the 48 legal channels during 5640MHz to 5960MHz of 5.8G frequency bands.
SCAN VIDEO IMAGE OF 3 x 5.8GHz CAMERAS INDIVIDUALLY
DEMODULATE AUDIO SIGANL
This device has audio demodulation of 6.5 MHz and 6.0 MHz covering most wireless cameras.
See more complete detail
Dimension

L 19 x H 14 x T 4 cm (antenna length not included)

Weight

about 860g (including rechargeable battery)

Power

1. Switching power adaptor

2. Built-in rechargeable battery

3. Power bank

Battery life

About1.0 hour after full charge

Detecting Frequency

5640MHz to 5960MHz

Monitor

3.5" High resolution LCD, Color or B/W camera compatible

Scan indication 1

NTSC or PAL / SECAM Video format indication

Scan indication 2

Scanning LED indication x 3 for 3 cameras

Scanning channel

Three channels synchronous scanning

Monitor display

1. Auto channel switching

2. Band selection switch for manual channel change

Audio / Video output

AV outputs x 3 for 3 cameras synchronous recording / viewing, with

3.5mm Video/Audio output jack x 3 (for connect with DVR)

Detecting Distance

up to 300 feet (depending on output power of source transmitter)